Pastor
Rev. Morgan Whitfield, Jr.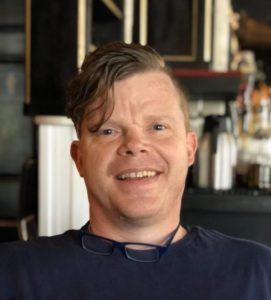 Pastor Morgan Whitfield, a native of Tupelo, MS, is excited to welcome you to Forest Presbyterian Church!
Morgan attended the University of Virginia, graduating in 1995 with a B.A. in Political and Social Thought. From 2000-2004, Morgan attended Union Presbyterian Seminary, earning his Masters of Divinity. During his tenure at Union, Morgan  had the unique opportunity to spend a year abroad in Bern, Switzerland studying theology at the University of Bern, the Alma Mater of Karl Barth.
Following this exciting and challenging experience, Morgan dedicated a full year in Student Ministry serving the First Presbyterian Church in Hinton, WV. While in Hinton,  Morgan had the opportunity to be immersed in a community of active Presbyterians ministering to an area steeped in poverty.
At the close of his SIM Year, Morgan accepted his first call to First Presbyterian Church in Donalsonville, GA, an agricultural community in the southwest corner of the state.
In 2009, Morgan accepted the call to Forest Presbyterian Church where he has served faithfully for a decade. 
Morgan is currently working on his Doctor of Ministry degree at Columbia Theological Seminary in Atlanta, Georgia.
Morgan and his wife Gwen have two sons, Brendan, a talented competitive swimmer, and Morgan III, a Sophomore in Chemical Engineering at Virginia Tech.
Interim Choir Director
DaShay Glover
DaShay Glover is a graduate of Liberty University with a degree in Music with a concentration in Piano Performance. During his time there, he studied with Dr. Samuel Wellman. After his graduation, he moved to Ithaca, NY to study piano with Dr. Jennifer Hayghe. While studying at Ithaca College, he performed in a composition recital, a Gospelfest with a full orchestra and a 250 piece choir, and a composition recital at Cornell University. In 2014 he was an accompanist apprentice with Opera Roanoke where he frequently accompanied the other apprentice artists in different programs. He has music directed shows numerous at the Academy Center of the Arts and with Wolfbane Productions, Heritage High School and Jefferson Forest High School. In December of 2015 DaShay performed at the White House for one of the Christmas tours. He is currently employed at Jefferson Forest High School as the Choral Director.
Organist
Norm Stein
Church Secretary
Joan Austin